We are pleased to present to you Thornburgh Insulation. We have, collectively hundreds of years of experience in both heavy industrial mechanical insulation as in cement plants, power plants, refineries, chemical and ethanol plants. As well we have preformed mechanical insulation on some of the largest commercial mechanical insulation jobs in the St. Louis area.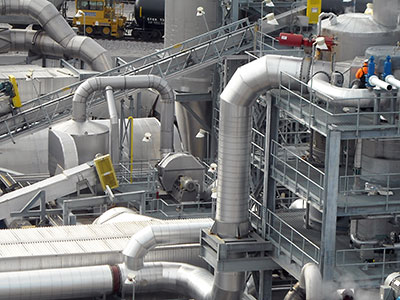 The Holcim Cement Plant, which is the largest cement plant in the world and the Thomas Eagleton Federal Court house, a 34 story and a city block square building, both are in the St. Louis Missouri area and are two stand out projects not only in size but coordination of a challenging schedule that Thornburgh Insulation has preformed successfully. These two jobs involved constant attention to changing conditions that required us to respond quickly, and correctly to issues causing potential delays to the project. As we all realize this can lead to time extensions and excessive costs if not properly managed through understanding that only comes from years of experience.
We are experts in not only heavy industrial insulation but the lagging required to protect the insulation from inclement weather. We have extensive knowledge of sheet metal applications. Sheet metal is typically required on all the referenced industrial plants.
Another facet of our insulation offering is our custom made removable insulation covers. (Please see our removable cover page)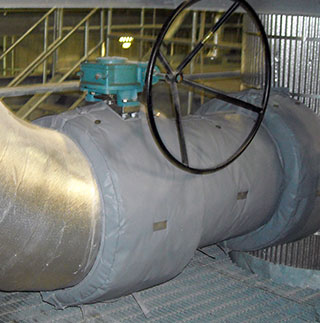 Our removable covers range in performance from a hundred to a thousand degrees, from heating valves to high pressure steam chest on major power generation facilities. Please browse our pictures taken from recent jobs preformed to get a sample of the kind of work we are capable of.
Take note that also with our staff of experienced professionals, there is no challenge that can not be met. Their years of experience range from high temperature steam and traced insulation systems to domestic water lines. We can provide Lump Sum, Time and Material or unit cost to meet your requirements for the job and the best pricing structure.
Thank you for showing interest in Thornburgh Insulation. We would be happy to service all your mechanical insulation needs.