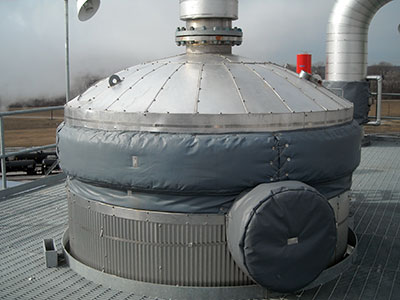 Thornburgh Removable Covers have a wide variety of Industrial and commercial applications, such as energy conservation, personnel protection, noise control and freeze protection. Every Thornburgh Removable Cover is a custom designed flexible blanket. They can be used to insulate valves, flanges, man ways, pumps, steam turbines, just about anything you can imagine.
Thornburgh Removable Covers are constructed of only the finest materials. Heavy density (11# / ft3) (176kg/m3)1200 F needled fiberglass "Burglas 1200" is used as the insulating material for most covers, but other materials can be used to meet your specification. 17 oz./sq yd silicone impregnated fiberglass cloth is typically used for the inner liner and outer weather barrier; but because Thornburgh Removable Covers are each custom designed, they can be made to whatever your specifications require.
For applications where temperatures exceed 450 F, 19oz. fiberglass cloth or 304 stainless steel mesh can be used as the inner liner. For extremely high temperature use "Premier Refractories" Cer-wool is used. If oily conditions are a concern, Thornburgh Removable Covers can wrap the insulation in an aluminum jacket before attaching the inner liner or outer finish to keep the insulating from soaking up the oil.
Thornburgh Insulation Job Thornburgh Removable Covers have many built in features to assure a good fit and easy installation. 2" wide Velcro strips are applied at the laps, not 1" wide, to make sure the lap stays in place. Polypropylene belts with "D" rings are used to quickly close and secure the covers. Flaps with drawstrings are used to help seal out the weather where the covers mate up to conventional insulation. Binding is used to reinforce all exposed seams.
Thornburgh Removable Covers are sewn to provide strength and a pleasant appearance. At high stress points double and triple stitching is used for reinforcement. For high temperature applications, "hog ring" staples are used.