Our company was formed to service our clients in, Power Plants, Chemical Plants, Industrial Plants and Commercial settings. All employees at Thornburgh Abatement take pride in their work, going above and beyond all the recognized safety standards.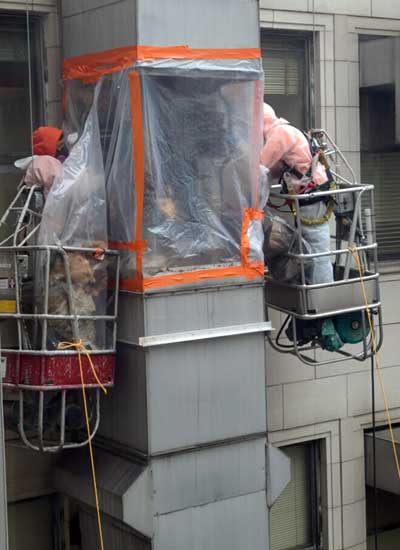 In our business, speed is sometimes of the essence, but safety is never put in second place.
We have provided for our clients a detailed safety policy covering all aspects of any work undertaken. Individual members of our staff have been trained to varying degrees in different aspects of Health and Safety responsibilities. A team approach to work is applied at Thornburgh Abatement. All aspects of Asbestos legislation, removal techniques and experience in the use of equipment is used by the team.
Here at Thornburgh Abatement, we feel this is the strongest team of experienced professionals in the Missouri and Illinois area. There are several reasons why this is so, and the very reasons why our customers will feel comfortable in using our services.
Therefore, we at Thornburgh Abatement decided we needed and wanted to give our customers a better opportunity through a closer hands on operations. The following illustrates why we say our team of professionals is second to none.
The best total abatement and re-insulation package available without such large variations in performance or cost due to state of the art estimating packages and seasoned estimators.
By eliminating the sub-contractor on abatement or re-insulation we save our customers money.
We have one project supervisor on each site from start to finish, so our customer representative becomes familiar with one man throughout the abatement re-insulation project which is a cost saving to our customers.
In addition, by having a one store contractor, this enables us to be more responsive on short notice and manage our work more effectively for your benefit.
We have the ability to keep job project managers as work fluctuates. Having the re-insulation allows for steady employment.
This in turn, allows us to have available the services of numerous trained personnel skilled at their work, through years of experience in this highly specialized field.
The St. Louis area is a strong union area. We have worked hard to establish and maintain good relationships with the proper people in this regard. As a result, we will have competent people when they are needed.
Although we are emphasizing abatement and re-insulation, we want to make sure that our client customer realizes we can do demolition, floor tile, ceiling scrapes, or any other asbestos removal required.
As Thornburgh Abatement is known as a safe, quality conscious and cost effective company, we realize our people are what made that a reality. We have assessed the area for professional, proven personnel and assembled them with the same goals as always.
We look forward to serving you soon on your next abatement or abatement/re-insulation project.